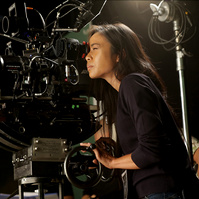 International Cinematography Guild Emerging Cinematographers Award Honoree 2013
-Excerpt from ICG Magazine, 2013
King of Norway – loosely based on the true relationship between writer/director Sylvia Sether and her father – is about a young girl whose father's accident leaves him unable to create new memories. As an adult, she learns that he's dying, and she finds her way back to him only to discover that love is impossible to forget.
"In the grander scope," explains Manlunas, "this story touches on the undeniable human connection we share and the effect we can have on each other's lives. I knew we had to shoot this on film, as 16 mm was the right call for the story's realism.'
"We wanted that hint of vibrance to match the rich performances," adds Manlunas, who shot on Kodak 500T 7230, "and with enough texture to make the overall feel more vulnerable and 'lived in' from the beginning, since we're only in the lives of these characters for a short, tough period of time."
Graduated with an Associates Degree in Video Production from The Art Institute Of California, Los Angeles. Recieved Best Cinematographer in her graduating class.